Your Dashboard, Your Way.  Cloud communications have never been so visible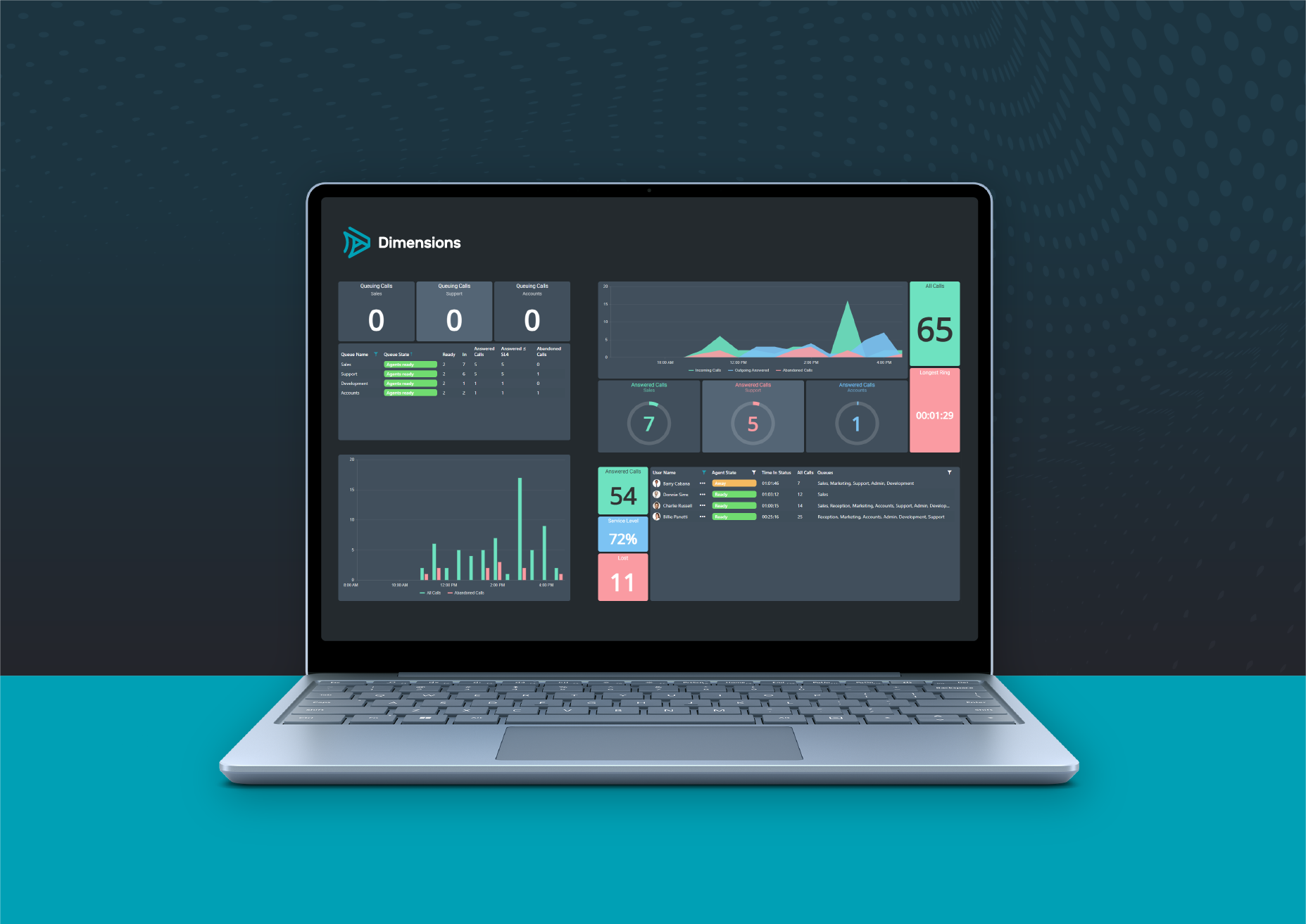 In the fast-paced world of customer service, effective management and swift decision-making are crucial for ensuring a seamless customer experience. At Dimensions Technologies, we understand the challenges faced by supervisors in overseeing agent performance and maintaining optimal customer service levels. That's why we're thrilled to introduce the Dimensions Dashboard, a powerful tool designed to revolutionize your supervision capabilities and elevate your customer service operations.
Efficient Management at Your Fingertips
With Dimensions Dashboard, supervisors can effortlessly stay in the loop, whether they are working remotely or in the office. The dashboard provides an immediate overview of agent availability and queue status, enabling supervisors to efficiently manage their teams. From tracking comfort breaks and lunch breaks to monitoring agents' performance during meetings and school runs, Dimensions Dashboard ensures supervisors have a clear picture of their staff's activities throughout the day.
Optimize Queue Performance
Managing queues effectively is key to maintaining high-quality customer service. Dimensions Dashboard offers a Queue Grid that utilizes a traffic light system to display the status of active queues. The grid helps supervisors identify available agents, queues with pending calls, and situations where agents are busy or unavailable. This visual representation empowers supervisors to make informed decisions, efficiently distribute agents among queues, and optimize queue performance to deliver prompt customer support.
Never Miss a Call with Unreturned Abandoned Calls Grid
Missed calls can lead to missed opportunities and compromised customer service. The Unreturned Abandoned Calls grid within Dimensions Dashboard addresses this issue head-on. It provides supervisors with a dynamic list of abandoned calls, enabling them to track and prioritize follow-ups. As agents make callbacks or receive incoming calls from these numbers, the grid updates in real-time, ensuring prompt identification of customers and recapturing potentially lost business.
Stay Ahead with Real-time Alerts
The Dimensions Dashboard keeps you in control by providing real-time alerts on critical thresholds and wait times. Whenever the quantity of calls exceeds predefined thresholds or wait times extend beyond acceptable limits, supervisors receive instant notifications. These alerts empower supervisors to intervene swiftly, make data-driven decisions, and ensure an optimal balance between agent well-being and operational efficiency.
Conclusion
At Dimensions Technologies, we strive to provide cutting-edge solutions that enhance your customer service capabilities. The Dimensions Dashboard is designed to streamline supervision, boost agent performance, and ultimately elevate your customer experience. With its intuitive interface, real-time insights, and powerful features, supervisors can efficiently manage agent availability, optimize queue performance, and never miss a call. Stay ahead of the competition and deliver exceptional customer service with Dimensions Dashboard.
Download Newsletter